The final plenary of the day focused on the Tokyo Olympic Games and its legacy. The panelists for the plenary were Mr. Nicolas Guichoux, Chief Program Officer at the Marine Stewardship Council; Ms. Rika Fukuda, General Manager of CSR & Citizenship Department at Panasonic Corporation; and Mr. Hidemi Tomita, Director of Lloyd's Register Japan who was involved in the establishment of the Sustainable Procurement Code for the upcoming Tokyo Olympic Games. Wakao Hanaoka of Seafood Legacy facilitated the session.
Sustainable Seafood Has Grown Significantly Following the London Olympic Games
The 2012 London Olympic and Paralympic Games was described as the "most sustainable Olympic Games in history." However, Mr. Guichoux pointed out that "while the Olympic Games is an important event, it was only one of many steps." He explained that "it was in fact only after the Games that sustainable seafood witnessed significant growth."
Indeed, over the six years from 2012 to 2018 in the United Kingdom, the sales of MSC-certified seafood grew significantly from 40,000 to 150,000 tonnes and made sustainable seafood a mainstream option for consumers. This growth was the result of an increase in the number of certified species as well as higher consumer interest in ethical and sustainable consumption practices.
Drawing on the experience of the London Olympic Games, Mr. Guichoux emphasized that "it is important that the trend does not cease after the Olympic and Paralympic Games but gain traction instead."
"Contributing Through Consumption"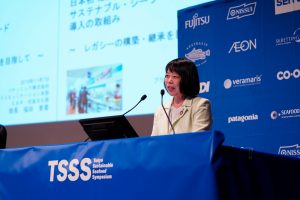 Panasonic is involved in both business activities and corporate citizen activities centered on social issues such as sustainable seafood.
The initial motivation for the company's involvement in sustainable seafood started by providing post-disaster reconstruction assistance for Minamisanriku. The oyster farming efforts in Minamisanriku supported by Panasonic had obtained the first ASC certification in Japan. However, the sustainable production of seafood requires an output channel via consumption. Panasonic has more than 100,000 employees in Japan alone, which the company was able to harness. Despite the busy schedule of employees, everyone has to eat lunch every day. By incorporating sustainable seafood into their cafeteria menu, Panasonic created an opportunity for all employees to "contribute through consumption."
There are around 100 Panasonic corporate cafeteria nationwide, of which 25 currently offer menus that incorporate sustainable seafood. The rate of employees opting for the cafeteria menu is typically considered high at around 20%, but the menus that incorporate sustainable seafood have seen this rate exceed 50% in some cases. Ms. Fukuda indicated that "we aim to expand these consumption practices within the company and beyond as well as creating collaborative networks for those companies which are introducing sustainable seafood to their cafeteria. "
The "Soft Legacy" is More Important Than the Event Itself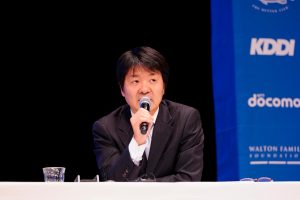 Mr. Tomita pointed out that a massive event such as the Olympic Games "can never be sustainable by itself." On the contrary, it exerts a substantial negative impact on the environment during the event period. If it does not leave a legacy that reverses this negative impact, it cannot be said to have genuinely contributed to sustainability efforts.
What exactly is this legacy? "While the hard legacy of buildings which can continue to be used after the event is over is easy to grasp, what is more important is the event's soft legacy, which does not take on any structural form," explained Mr. Tomita.
As this subject is increasingly featured in the mass media, public awareness will also increase. A higher number of purchasing consumers will lead to greater commercial confidence in these products. Currently, we are still in a situation where it is difficult for the pioneering companies in this industry to recoup their initial expenses. "Once the industry matures, profits will be possible. In that sense, we may need to start from raising consumer awareness," suggested Mr. Tomita.
Initiatives are Interrelated. Collaboration is the Key to Success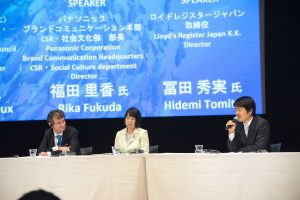 The individual goals of SDGs do not stand independently but are intimately connected. Even companies that do not appear to be involved with seafood at first glance can indirectly create a "bountiful marine environment" through their primary commercial activities. Mr. Tomita emphasized that the key is to find a way to bring together various activities, including companies that are not directly involved in the fishing industry.
There are many external affiliates involved in the push to incorporate sustainable seafood in the menus of the employee cafeteria. These affiliates are also part of networks through which these efforts can simultaneously be expanded to other companies. Ms. Fukuda added that a legacy can be created by bringing companies together and amplifying ongoing efforts in this way.
"It is imperative for us to share information and ideas, as well as create partnerships, in places like this symposium today. This will allow us to realize the potential of Japan," explained Mr. Guichoux. The session moderator concluded on an optimistic note, "I hope that all of us can gather here again next year to share the progress we have made as a team by taking advantage of our respective networks."